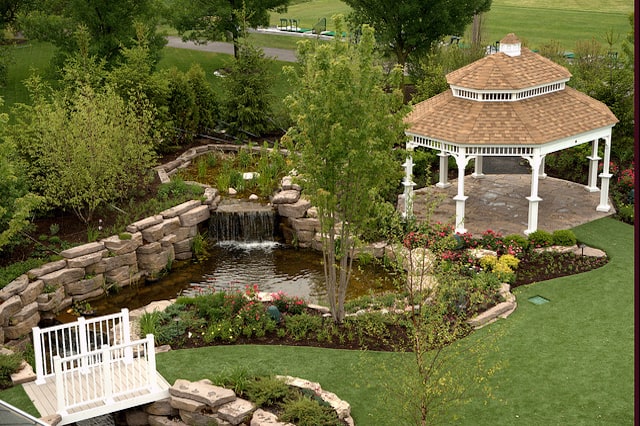 Ah, water. There's nothing more relaxing, more nourishing, or more beautiful. So why not add some to your yard? We're not talking about pools here – though that would be a great addition to any yard. No; instead, we're talking about landscape water features. At Palmettoscapes Landscape Supply, we're here to help you with all things you need for custom water features
Landscape Water Features for Your Home
If you're renovating your front or back yard, why not consider some landscape water features to add a little something extra for your outdoor space? Don't worry – if you come up with a great idea, don't sweat the hard work – that's what we're here for! At Palmettoscapes Landscape Supply, we'll help you choose the right materials and match you up with the best contractor for your project.
If you don't have ideas for your landscape design, we've got you covered. Here are some fantastic inspiration ideas for custom water features:
1. Fountain: Of course, a popular choice for landscape water features is to incorporate a fountain into your yard. There are many types of fountains that can be installed, including traditional fountains, decorative fountains, modern spherical fountains, water blade fountains, bubbler fountains, and more. Or, if you do have a pool installed or are planning to have one added to your outdoor space, you can even add a fountain there, too! Whatever route you choose to go, we can help you find the right fountain for you.
2. Waterfall: Another one of the popular landscape water features among our customers are waterfalls. We'll find the perfect contractor who can help you build a stone waterfall and pond right into the landscaping of your yard. Waterfalls provide aesthetic beauty as well as the relaxing sounds of water, right in the comfort of your backyard.
3. Koi Pond: When you think of landscape water features, does your mind go to a koi pond? Honestly, it's what most people think of – and for good reason. Koi ponds are custom water features that are an interesting, living, and gorgeous addition to any outdoor space. Koi ponds are designed specifically with the Japanese Ornamental Carp in mind, making it a livable habitat for the fish. These ponds not only add an element of beauty to your yard, but they're also a nice tool for relaxation and a way to bring wildlife into your backyard.
4. Garden Pool/Sculpture Pond: But what if you don't want a koi pond? Well, opt for a garden pool instead! If you've ever visited a place like Brookgreen Gardens, then you've seen garden pools before. These types of ponds are landscape water features that are mostly meant for aesthetics. While you can have a garden pool without any focal point, using yours as a Romanesque sculpture pond is always a wonderful idea. This way, you can enjoy the water as well as some art while hanging out in your outdoor space.
If you're ready to get started on a custom water feature project in your yard, then come on over to Palmettoscapes Landscape Supply and we'll help you get started! As always, be sure to contact us with any questions and we'll be happy to answer.