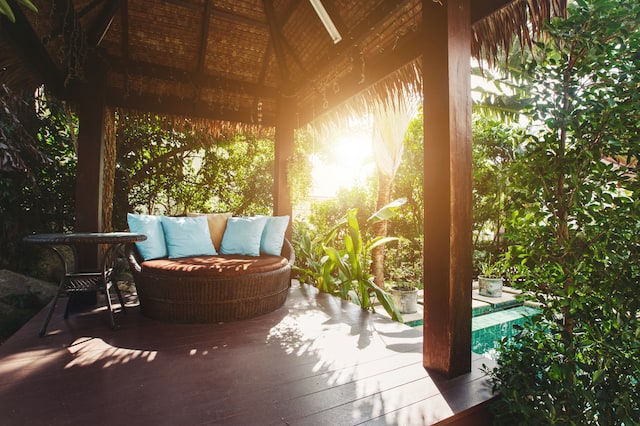 Though you live near the beach in coastal South Carolina, sometimes it's nice to get away from your normal surroundings and visit somewhere different. But did you know that you don't have to get on a plane or drive hundreds of miles to find new scenery? Instead, Palmettoscapes Landscape Supply can help you create your very own idea of paradise in your backyard!

If you're someone who dreams of living on a tropical island, then you may want to consider revamping your backyard into a tropical landscape design. This will allow you to easily step outside your back door and feel as if you have started a Hawaiian vacation. Except the thing with vacation is that your visit always comes to an end, but with a themed backyard design idea, you can feel as if you're on a holiday every day!

Sometimes is hard to come up with backyard ideas on your own, but we offer a variety of products and services to help make your dream tropical landscape design into a reality. If you're thinking about making some changes to your outdoor living space, then consider these tropical inspired backyard ideas:

Backyard Fire Pit & Outdoor Grilling Area
Close your eyes and think about a tropical place like Hawaii. What do you see? We picture an entertaining luau, with food being cooked over a fire and tons of family and friends dancing, laughing, and having fun. If you want to bring the luau vibe to your backyard landscape design, then you may want to consider incorporating a backyard fire pit. A fire pit will make your tropical backyard a desirable place for friends and family to gather around and make memories. Surround your backyard fire pit with comfortable yet stylish chairs in natural woods or bright, tropical-inspired colors to really tie in the theme.

If you like to cook, then an outdoor grilling area is a great backyard idea for your tropical themed landscape. We offer a variety of natural-looking materials to make your grill area look upscale and also fit in with your tropical landscape design. Adding an outdoor grill to your list of backyard landscaping ideas will not only introduce more functionality to your space, but will also provide you with a fantastic area for entertaining as well as a beautiful place to cook and enjoy the views.

Hardscaping Ideas for Your Tropical Landscape Design
If you're using your backyard as an entertaining space, then you'll need to think of some backyard patio ideas. For a tropical landscape theme, we recommend using pavers or wood for your patio. Pavers give a more natural look and feel than traditional concrete backyard patios, which goes well with the island-inspired backyard landscape design. A backyard patio would also go hand-in-hand with an outdoor kitchen, as you can use it as a spot to place a table and chairs for dining. You can also use your backyard patio as a place for lounge chairs or even a hot tub for pure relaxation in a setting inspired by the Hawaiian islands.

Another hardscaping idea for your backyard makeover is to use larger rocks or stones as the border for new or existing flower beds. Adding flower beds with tropical plants surrounded by natural stone will help give a more natural island feel to your backyard landscaping.