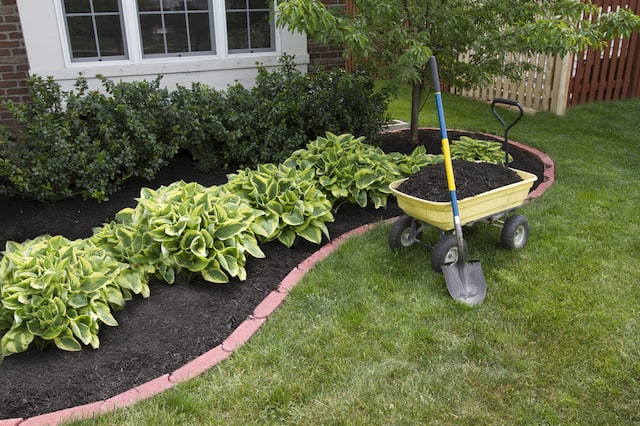 If you're searching for information about landscape mulch online, chances are you already know that it's aesthetically pleasing. But did you know there are several other great benefits of using mulch in your yard? That's right – mulch is a fantastic material to use in your landscaping to provide beauty as well as health to your garden.
Those of you who are wondering what exactly those benefits are have come to the right place. Here at Palmettoscape Landscape Supply, we offer a variety of mulch types that will help you:
Increase Curb Appeal
Whether you're trying to sell your home or just win the grand prize for the yard-of-the-month club, adding mulch to your flower beds and around your trees is a surefire way to increase the curb appeal of your home. Mulch comes in a variety of colors that can be used to accent the colors of your home and garden, creating a beautiful scene. Of course, it's important to keep your mulch fresh for the best results, so you may have to freshen up your flower beds once or twice a year.
Keep Your Soil and Plants Healthy
Many types of landscape mulch are made out of wood and other natural materials that break down and add nutrients to your soil over time. These nutrients help keep your soil healthy, and, in turn, aid in the growth and health of your plants and flowers. Mulch also helps your soil retain moisture which allows you to save time, money, and water by not having to water your garden as much as you would without having mulch in your flower beds.
Regulate Soil Temperature
When you live in a place like coastal South Carolina where the spring and summer months are hot, hot, hot, it's important to mulch your garden beds in order to regulate the soil temperature for your plants. Mulch acts as a layer of insulation, allowing the soil underneath to stay cool when it's hot outside. That, on top helping your soil retain water, makes the roots of your plants and flowers very happy! So, if you want a thriving garden, then you must mulch!
Prevent Weeds
Ah, weeds. There's nothing worse! Weeds are a gardener's nightmare, but did you know you can easily prevent weeds from growing by mulching over your soil? Sure, some weeds will still be able to get through – but it definitely won't be as many, and they're a lot easier to get rid of then if you don't add mulch to your flowerbeds. Let's just put it this way; if you want less weeds, add a layer of mulch to your landscaping. It's easy and you won't regret it.
Have questions about our landscape mulch offerings at Palmettoscape Landscape Supply? Feel free to contact us! Also, be sure to check out our blog for more tips and tricks for your landscaping needs.