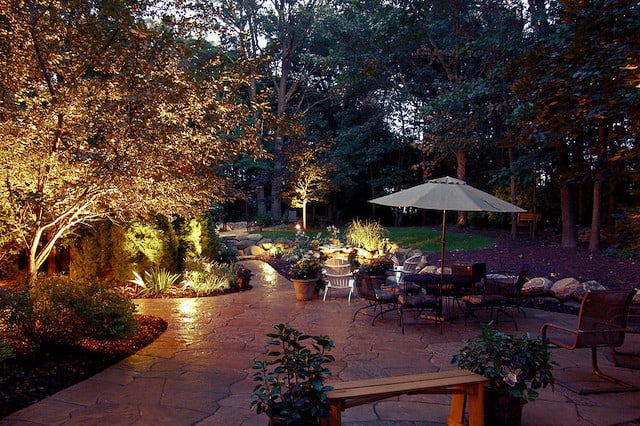 If you're here on our blog, then you're most likely thinking about making some changes to your outdoor space – and we totally love that. But while you're thinking about changing your landscaping and hardscaping, you may also want to consider adding outdoor landscape lighting to your list of desirable additions to your yard.
Why? Well, we're glad you asked. There are several benefits to outdoor lighting that we'll highlight in this post.
The Benefits of Outdoor Landscape Lighting
When it's dark outside, step outside your home and take a good look. What do you see? Chances are, without landscape lighting, you don't see much. But at Palmettoscape Landscape Supply, we can help you change that. Of course, outdoor lighting provides light for your outdoor space, but there are also several other reasons why you may want this for your home, including:
Aesthetics: For one, outdoor lighting is a great way to add curb appeal to your home. The way that landscape lighting is placed around your house makes for an aesthetically pleasing appearance. There are several ways that outdoor lighting can be installed, including ways to highlight plants, trees, water features, the exterior of your home, and more.
Safety: Ever walk outside at night and accidentally trip on something? Well, those days are long gone when you install outdoor landscape lighting. Outdoor lighting is perfect to light up porches, paths, decks, and more, so that you can have added safety right in your own yard. Plus, if you're someone who likes to host outdoor parties and get-togethers, outdoor lighting is a great tool to help people be able to see and enjoy their time together more while feeling safe.
Added Security: You know the old practice of leaving your porch light on to signify that someone is home to help deter potential crime? Outdoor lighting can take that a step further. Adding landscape lighting to the exterior home will provide more light to the yard, allowing you to see if anyone or anything is out in your yard at night.
Have we convinced you yet? If you're ready to get started on adding outdoor landscape lighting to your home, then be sure to contact us or stop by Palmettoscape Landscape Supply for more information and to begin your project.