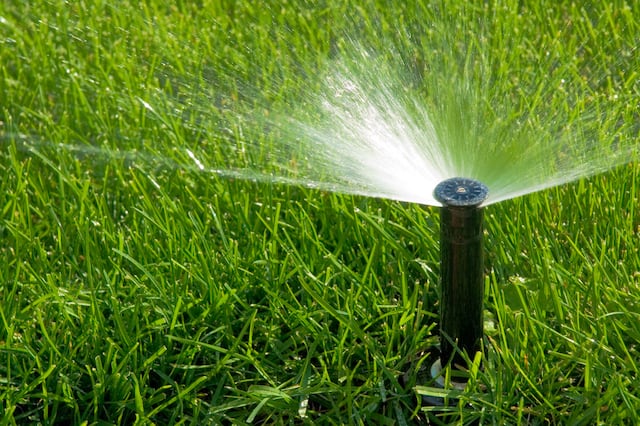 Let's face it – it's not very easy or fun to have to water your grass with your garden hose during the hot South Carolina summers. While you're standing there, hose in hand, with the sun beating down on your face, you must think "there's got to be a better way!" And, actually, there is! And here at Palmettoscape Landscape Supply, we're ready to help you find the best landscape irrigation system for your needs.
Landscape irrigation systems are perfect tools for keeping your lawn green and healthy throughout the year. In fact, there are several great benefits of owning an irrigation system. These include:
Watering Only When Needed: One of the top benefits of a landscape irrigation system is that fact that they only water your lawn and garden when it's needed. These systems are automated so that you don't have to worry about over or under watering.
Save Money: Since irrigation systems are automated, you'll not only save time, but you'll also save water and money! That's right – because your irrigation system releases water only when it's needed and in the proper amounts, you'll save money on your water bill and prevent wasting water.
Increase the Value of Your Home: If you're ever thinking of selling your house one day down the line, adding a landscape irrigation system will help increase the value of your home. This is because it's a great added feature, and, by keeping your lawn and garden green and healthy, it also increases curb appeal!
Maintains Healthy Soil: In addition to keeping your grass and plants watered and healthy, an irrigation system can also help you maintain nutrient balance of the soil in your yard. That's because over watering can cause nutrient loss, but the controlled, balanced watering from an irrigation system will help avoid nutrient loss and soil compaction.
You Have Control: One of the coolest parts about having irrigation installed is the fact that you have complete control over the system! Choose from settings such as spraying and dripping as well as when and where the water will be dispersed.
Not sure where to begin with getting a landscape irrigation system? Come on over and see us or contact us at Palmettoscape Landscape Supply! Our friendly staff will be happy to help you find the best system for you and match you with the perfect person to install it. It doesn't get any easier than that!