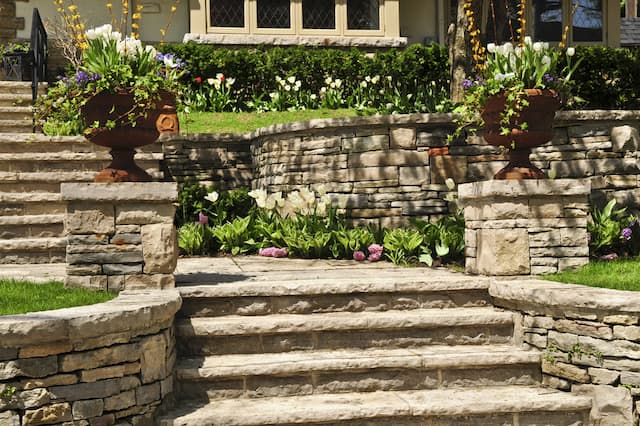 Are you looking to transform your yard or the exterior of your business but don't know where to start? Consider one of the hardscaping services offered from the experts at Palmettoscapes Landscape Supply! We have all the materials you need to create beautiful and useful hardscape while matching you up with the perfect contractor for your project.
Hardscaping Services from Palmettoscapes Landscape Supply
Sure, you've heard of landscaping before, but what exactly is hardscaping? Hardscaping uses hard landscape materials to create environmental structures that are incorporated into a landscape (Wikipedia). Examples of hardscape include retaining walls, walkways, pavers, concrete patios, driveways, stairs, and more. Hardscapes are made up of hard materials (hence the name) such as stone, concrete, and wood.
At Palmettoscapes Landscape Supply, we've got you covered for all of your hardscaping ideas. Our hardscaping services include projects such as:
•Concrete or Brick Patios: Do you want a place to grill and entertain guests and your family? Installing a concrete or brick patio in your backyard will help create a perfect space for you to set up a table, chairs, hammock – the list goes on and on!
•Stone Retaining Walls: Our contractor partners will help you build stone retaining walls in your backyard to help with erosion, to stabilize your sloped yard, to build a beautiful garden, or even just to make your backyard look pretty!
•Steps/Stairs: Do you have old wooden steps in your backyard that need to be revamped? Using our hardscaping services to install new stone or brick steps is a great way to bring your yard back to life and provide safety to you and your family.
•Paths & Walkways: Create a path to your garden, outdoor kitchen, fire pit, pool, and more with an outdoor path or walkway. We offer brick pavers and stone slabs that make the perfect stepping stones for your backyard walkway.
•Fencing: Whether you're wanting privacy or just need a way to keep your four legged friends inside of your property, metal or wood fencing are always great options. Lucky for you, fence installation is one of our hardscaping services offered at Palmetto Landscape Supply.
•Decks & Gazebos: Of course, when you live in a sunny place like North Myrtle Beach, you're going to want to spend a lot of time outside. For those who like to lay out in the sun, a wooden deck is a fantastic hardscape feature. Like to be outside but need some shade? Consider installing a gazebo!
There are several other hardscaping services that we offer, but these are just some ideas to get the inspiration flowing! Be sure to check out our homepage for the other services we offer and contact us when you're ready to get your next project started!