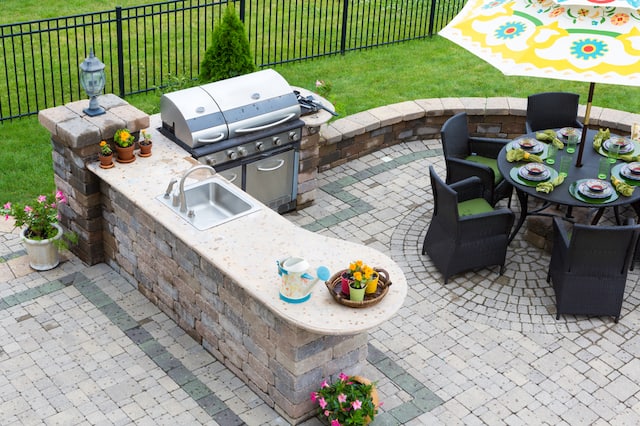 Lately on our blog we've been on the topic of designing your backyard. And this post is no different! We love helping people turn their dream backyard into a reality through our landscape supply and reliable contractors.

If you're someone who loves to cook, then this blog post is for you. We have everything you need to build an outdoor kitchen right in your backyard.
Outdoor Kitchen Ideas for Your Backyard
If you're thinking about constructing some outdoor kitchen ideas in your backyard, then you're most likely considering a grill. We offer the installation of outdoor kitchen appliances such as outdoor grills and pizza ovens so that you can enjoy cooking a variety of meals right in the comfort of your backyard.

But that's not all — we'll also help you create the ultimate backyard bar and dining area. Our contractors use our high-quality hardscaping material to build beautiful backyard kitchen areas with stones, bricks, and more. Many people opt for bar seating right next to the grill for a cool, casual, and modern look. Or, if that isn't your cup of tea, we'll lay down a nice patio made from pavers so that you can set up a table and chairs for you and your guests to enjoy backyard dinner parties.

Another great outdoor kitchen idea is to include a fire table or a fire pit in your outdoor kitchen plans. Including a fire table or a fire pit in your backyard kitchen is a great way to create a nice ambiance for you and your guests. It'll also help your guests keep warm on cooler evenings while you're cooking up a storm. Utilizing one of these in your list of outdoor kitchen ideas also provides a fun way for you to roast up some marshmallows for s'mores – a dessert that everybody loves!

Of course, you'll also need outdoor lighting for your outdoor kitchen. Our contractors know several different unique ways for you to incorporate useful yet tasteful lighting in your outdoor kitchen plans so that you are able to see what you're doing while you're cooking at night time.

Are you ready to build your dream outdoor kitchen? Contact us by clicking the "Start a Project" button on our homepage!