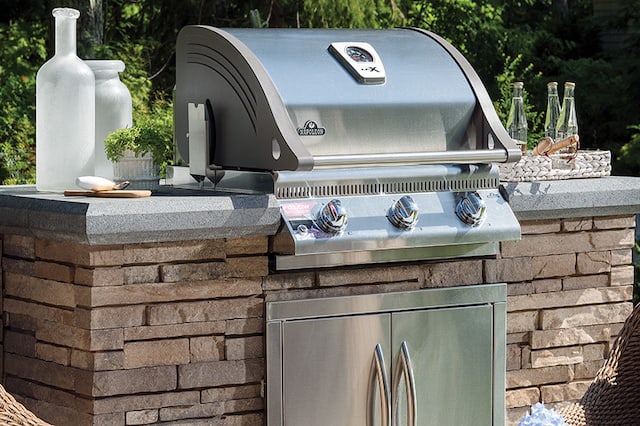 Close your eyes and picture your ideal backyard – what do you see? If you're anything like us, then you're envisioning an endless scene with lush landscaping, serene water features, places to sit & relax, and more. And, if you like to cook and host dinners with family and friends, then you may even be thinking about installing an outdoor grill island to make your backyard patio area complete.
Palmettoscapes Landscape Supply will Help You with Your Outdoor Grill Island
If you're considering an outdoor grill island for your yard, then you've come to the right place. The pros here at Palmettoscapes Landscape Supply will help you choose the best materials that you'll need in order to properly create the outdoor grill area that you've always wanted. Once you've chosen your materials, we will match you with a contractor who will turn the outdoor grill island of your imagination into a reality.
Outdoor grilling areas are the perfect spaces for practicing your culinary skills while enjoying a natural view. Of course, home cooks who live alone will enjoy having an outdoor grilling area, but it's also a fantastic feature for families as well as those who like to invite friends over for cookouts, birthday parties, and get togethers. One thing's for sure – you don't have to be a grillmaster to take advantage of the benefits of having an outdoor kitchen!
While you're at it – why not also think about installing a patio made with pavers? We have a variety of pavers to choose from that will compliment your outdoor grilling area perfectly. A patio made with pavers provides a great space for a dining table for your guests. It's also a fantastic spot for a firepit, lounge chairs, or even a fountain!
So what are you waiting for? Get started on your outdoor grill island and other landscaping projects with Palmettoscapes Landscape Supply!